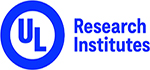 UL Research Institutes is a leading nonprofit, independent safety science organization with global reach. Dedicated to exploring vital questions related to public safety, we sense and act on risks to humanity and our planet.
Since 1894, our trusted research has engaged the ingenuity of top minds across scientific disciplines to engineer a safer and more sustainable world. Science builds the knowledge required to mitigate increasingly urgent safety problems like environmental and chemical pollution or artificial intelligence inequities — and our rigorous, objective investigations uncover that knowledge.
In collaboration with a global network of scientists and safety professionals, we define the safe and sustainable use of things ranging from legacy materials to new and emerging technologies. Our discoveries support the development of practical standards and policies by UL Standards & Engagement. Together, we are advancing safety science for the greater good.
Discover more at UL.org