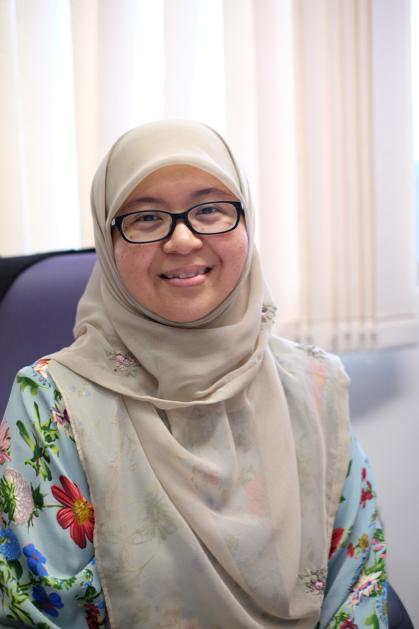 Dr. Wida Susanty Haji Suhaili is the Assistant Professor at the School of Computing and Informatics, the Universiti Teknologi Brunei (UTB). She started her career in UTB when she completed her Masters and reported on 2nd November 2011. Dr. Wida received both her B.Sc. in Computer Science (2003) and M.Sc. (2004) with Honours from the University of Strathclyde, Glasgow (UK), and Ph.D. in Education Technology from the University of Edinburgh in the United Kingdom (2015). She gained her teaching training (PGCTE) in UBD in 2007. Within the university, she is the project coordinator for the School of Computing and Informatics where she foresees all the students' projects from the Computing group, Final year and Master research.
She is currently the thrust's lead for Digital and Creativity research thrust in the University. She has focused on SMART Initiative project involving Internet of Things upon obtaining her PhD. She has been working on peatland projects since 2016, where she has received support from various stakeholders from government agencies and industries and she becomes an active member of Brunei Shell Joint Venture, Biodiversity Action Plan (BAP). She also focused on the adoption of Science, Technology and Innovation in the improvement of paddy plantation in Brunei, in close collaboration with Department of Agriculture and Agrifood, Ministry of Primary Resources and Tourism, Brunei. Regionally within ASEAN, she represents Brunei in the ASEAN S&T Fellowship for 2019/2020. She has also been very active with ASEAN IVO projects since 2018 in which she is the country's lead for three of the projects; namely for 2018 (1) "Networked ASEAN Peatland Communities, (NAPC)" (2 years project ), (2) "A mesh-topological, low-power wireless network platform for a smart watering system", (SWS) (3 years project) and (3) 2019 project "Relay Station Network based on Low-power Wide Area Network", (LPWAN) technologies for Disaster Management (2 years project). Apart from the country's lead, she is also a project member of ASEAN IVO 2020 on "Smart Data Platform for Collaborative Development of Data-driven Smart Cities"
Besides her involvement with ASEAN IVO, she is also involved with project under JASTIP-NET. Recently, she has receive an approval on JASTIP-NET 2019 project on the "Sustainability and conservation approaches of peatland in ASEAN region, under Bioresources and Biodiversity (WP3)(1 year)". Following the peatland project, she has published two papers and won 1stprice under BEST NGO's Leading Practices 2019, in the 8th Islamic Conference of Environment Ministers, Kingdom of Saudi Arabia Award for Environmental Management in the Islamic World.
With her focus and committed involvement to the aforementioned projects, she has been actively invited as speaker for conference, forum and symposium locally and regionally where she has taken the opportunity to advocate on her mitigation of fire and conservation of peatland project to her audience. Recently she was selected and invited to represent Bruneifor a working visit to Barcelona Super Computing on High Performance Computing under Enhanced Regional EU-ASEAN Dialogue Instrument (E-READI). She has co-chaired the 3rd and soon the 4th Computational Intelligence in Information Systems Conference, CIIS2020.