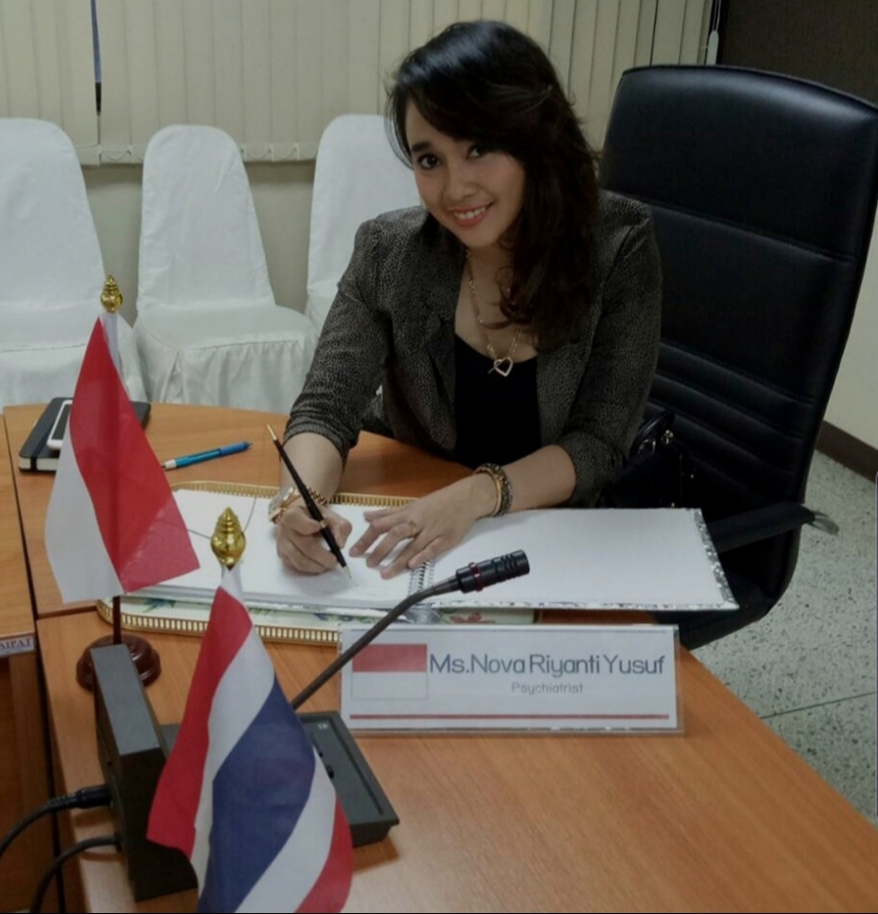 Nova Riyanti Yusuf, MD, PhD, is a psychiatrist, author, researcher, and mental health activist. Currently she's a practicing psychiatrist at both public and private facilities. She's also a lecturer in psychiatry at a state university, UPN Veteran Jakarta Medical Faculty. She's the Secretary General of Asian Federation of Psychiatric Associations, Head of Jakarta Psychiatric Association, Chairman of the Board of Experts of The Indonesia Mental Health Council, and Member of Advisory Committee for Mental Health Research of the Center for Public Mental Health at the Psychology Faculty of Gadjah Mada University. Nova's days are always filled with media engagement and public speaking in Indonesia and overseas to disseminate information about her research on suicide prevention and other mental health researches. Nova constantly writes articles for newspapers and journals regarding mental health issues. Her latest article, "Development of a Risk-Factors Questionnaire to Assess Suicidal Ideation Among High School Students of Jakarta Province, Indonesia", was published in August 2019 for the Indian Journal of Public Health Research & Development.
Nova was Member of Parliament for the House of Representatives in 2009 – 2014 and 2018 – 2019. She was appointed as Deputy Chairwoman for the Health and Manpower Commission at the age of 33-year old. Nova initiated the Mental Health Bill in 2009, chaired the Working Committee, and passed it into the Mental Health Law. The Law also regulates preventive efforts of the mental health care and the establishment of the National Institute of Mental Health as center for research and technology development. As Legislator, she launched initiatives –one of them was the Mobile Mental Health Service as an outreach mental health program to high school students.
In 2015, Nova was invited to the Harvard Medical School as Research Scholar at the Department of Global Health and Social Medicine and received a diploma in Mental Health Implementation Research. She was speaker at the Harvard Kennedy School and Friday Morning Seminar –a collaboration of Harvard Medical School and MIT, to share about her struggle for the Mental Health Law.
Before becoming a Legislator, Nova had shown interest in suicide prevention research. In 2008 she conducted a psychological autopsy of two painters died by suicide in Indonesia and published it into a nonfiction book in 2020. It was her 12th published book. Previously she has published novels and movie script since 2003. For her PhD research in 2018 she developed an instrument for early detection of suicidal ideation risk factors among adolescents. It was part of her consultancy work for the WHO Indonesia and the Ministry of Health to develop a draft of National Strategies of Suicide Prevention by referring to WHO Suicide Prevention Framework.
Nova grew from being the winner of Fun Fearless Female 2004 by Cosmopolitan Magazine Indonesia into Globe Asia Magazine's one of 10 Most Influential Female Legislators in Indonesia. Her World Magazine Indonesia chose Nova as the Most Powerful Woman 2014. In 2016, Nova was profiled "Freeing Mentally Ill of Stigma and Chains" in the Saturday Profile of The New York Times.