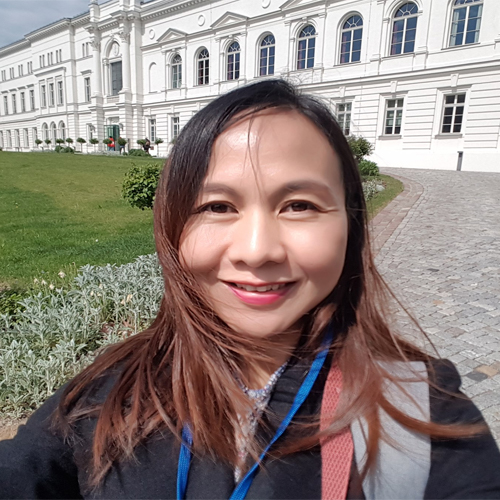 Dr. Mary Donnabelle Balela is an Associate Professor at the Department of Mining, Metallurgical and Materials Engineering (DMMME), University of the Philippines (UP). She currently heads a dynamic research group, the Sustainable Electronic Materials Group, which aims to develop sustainable materials for electronics, environmental and energy application.
The research group has developed a regenerative method of producing Ag nanowires for printed electronic devices.? At the same time, they are recovering Ag from industrial wastes, such as X-ray films.? This project has been awarded the 2019 Department of Science and Technology-National Science and Technology Week (DOST-NSTW) Outstanding Research and Development Award for Applied Research and 2019 Invention Disclosure Award from the University of the Philippines. Currently, the Group is developing customizable kapok fiber nanocomposites for energy and environmental applications, which is a finalist of the 2018 DOST-NSTW Outstanding Research and Development Award for Applied Research.
Dr. Balela is a 2018 College of Engineering, University of the Philippines Outstanding Researcher, 2017-2019 University of the Philippines Scientist, National Academy of Science and Technology-Outstanding Young Scientist 2016 for Materials Science and Engineering, 2016 Japan Society for the Promotion of Science HOPE Fellow, and Royal Academy of Engineering Leader in Innovations Fellow.? She is a member of Global Young Academy, Outstanding Young Scientist of the Philippines and National Research Council of the Philippines.
Dr. Balela is a wife and mother of two beautiful girls and a devoted yoga asanas practitioner.? Dr. Balela is also passionate with her advocacy of promoting women in science and science to the youth.? Every year, Dr. Balela, together with her students, conduct science outreach, Super Saya ng Siyensya in public primary and secondary schools in less developed towns in the Philippines to engage students in science. Dr. Balela received a Doctor of Engineering (Materials Science and Engineering) degree from Kyoto University in Kyoto, Japan in 2011. Her dissertation was titled Syntheses of Metallic Cobalt Nanoparticles and Nanowires by Electroless Deposition